Riding School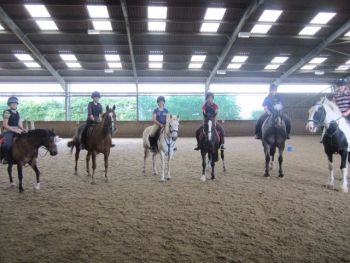 At Somerby Riding School, teaching people to ride is what we love doing best!
We offer riding lessons for all abilities from total beginners to experienced riders, from 4 years old. We are a safe and friendly environment with knowledgeable and skilled staff who can bring on and give confidence to the youngest and most nervous of riders. For those old riders or riders new to the sport, getting back in the saddle or looking to advance your technique we have instructors and horses to suit you.
If you are new to Somerby we will ask you to do an initial private assessment to establish what your riding level is. This will help when it comes to selecting your future lessons and ensure that you are riding the right horse and with other riders at your level. Lessons vary in time from ½ hour to 1 hour; with both group and private lessons available. Bookings must be made in advance.
Feel free to give the office a call on 01664 454838 for further information. Our staff will happily answer any questions or queries that you may have.
We have a range of first class facilities at our riding school. If you are a first time rider or new to Somerby Riding School click here to see some useful information and please contact us to find out more about what we have to offer!
We offer riding lessons for all abilities from total beginners to experienced riders. Prices for our regular riding activities are listed and we are always happy to accommodate for something different please call us to discuss your requirements. New prices Effective April 2023.
Payment must be made upon bookng. Please see our cancellation policy

Bookings cancelled within 24 hours of lessons will be carried over to next booking
Same day booking cancellation with be charged at 50% of lesson cost
All bookings must be paid for at time of booking to secure the slot
To cancel a booking please ring and leave a voicemail on 01664 454 838 if no answer, or drop us an email to

This email address is being protected from spambots. You need JavaScript enabled to view it.
The most fun way to ride - group lessons are held in regular slots each week, giving you the chance to make new friends in your class and for your riding to take on a more social aspect.
The surrounding Leicestershire countryside provides Somerby Equestrian Centre with extensive off-road hacking in a picturesque landscape for experienced and regular riders.
Private lessons are ideal for the rider who wishes to concentrate on one particular aspect of their riding or has a confidence issue.