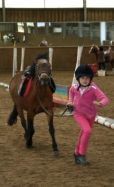 Why don't you celebrate your Birthday in style with a personalised Party at Somerby Riding School.
We offer Birthday parties for groups of children (2 to 20) aged 4 years +.
Birthday parties consist of a mixture of fun games, jumping (if capable) and hacking (if weather nice). We aim to keep things fun and exciting, and even sing Happy Birthday to the lucky birthday boy/girl. Special rosettes are given to all participant at the end of the party.
A room can be made available for party food and cake to be enjoyed (supplied by customer).
Our ponies love taking part in pony days, so book your next child's birthday now!
To book a Party or if you would like more information please contact us